Directory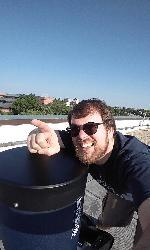 Pronouns he, him, his, his, himself
Title

Postdoctoral Scholar/Employee

Division Physical & Biological Sciences Division
Department
Affiliations Astronomy & Astrophysics Department
Phone
Email
Office Location

Center for Adaptive Optics, 211

Astronomy Shop A, Room 213

Mail Stop UCO / Lick Observatory
Mailing Address

1156 High St
Santa Cruz CA 95611
Summary of Expertise
Advanced Image Slicer optical & mechanical design
Cryo-opto-mechanical engineering (NIR instrumentation design, fabrication, integration and verification)
Hands-on cryostat/instrumentation experience
Commissioning of large instruments on large OIR telescopes
Additive manufacturing (fused-deposition manufacturing in particular)
Biography, Education and Training
I was born and raised in Colorado. I grew up in a tiny, tiny town called Paonia, which is about halfway between Aspen and Telluride.
I attended the University of Colorado at Boulder for my undergraduate education, earning my B.A. in Astrophysics (and graduating as departmental valedictorian).
I studied under Professor Steve Eikenberry for my graduate work at the University of Florida, where I specialized in IR instrumentation (particularly image slicers). I work on Galactic Center science by trying to tease out population studies despite the staggering amount of reddening present. I use (but without claiming to be an expert in) Bayesian analysis to generate the finest-grained extinction maps ever developed in the Galactic Center region.
I am the Instrument Scientist for the SCALES instrument (Santa Cruz Array of Lenslets for Exoplanet Spectroscopy) and work closely with Professor Andy Skemer, the SCALES Principal Investigator, and Nick MacDonald, the Project Manager. My day-to-day activities include interfacing with all the SCALES engineers and the Project Manager, tracking instrument requirements, writing loads of documentation, and keeping the project going.